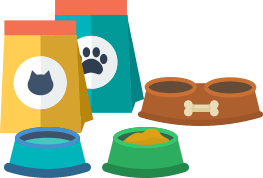 According to the statistics, food makes up 38% of the yearly spend ($22.26 billion) on pet care. Since 65% of the 79.7 million U.S. households include a pet, the average monthly spend on pet food is $23.95 per home.
If your pet is a goldfish, that number will be considerably less. If you own a Great Dane, it's liable to be more… but that's the average.
The good news is whether you own a dog, cat, or turtle, you can spend less money on pet food and still keep your pets well fed.
Here are the best tips we've found for saving money on pet food:
Save on Pet Food -Tip #1: Get your pet food at a big-box store.

Websites and specialty stores are typically more expensive. For example, a Consumer Reports study found consumers can pay up to twice as much for the same food, depending on whether it's purchased online (most expensive) or at a big-box chain. Much of the difference can be attributed to shipping costs.

Make your own comparisons. Check Costco, Sam's Club, Walmart, Target, and the others. Convert to price per pound to determine the difference between getting pet food at those outlets and your other options. Normally, the big-box store will save money – although special offers and coupons can be an equalizer.

Save on Pet Food – Tip #2: Buy the generic brand.

Branding and advertising can sucker you into paying considerably more for the same – sometimes even less nutritious – pet food. How do you know which is best? Do the same thing for pet food you do for your own food: read the label and compare the ingredients. You could be in for a big surprise!

Save on Pet Food – Tip #3: Always check for coupons!

Get in the habit of searching for coupons before you go shopping. Sign up for deal alerts on Coupon Chief to make sure you don't miss current coupon discounts at your favorite stores, online or off. You don't have to go overboard on coupon clipping to save substantial money on expenses. Digital coupons make it easy to stay up on cost savings.

Save on Pet Food – Tip #4: Buy pet food in bulk sizes.

You'll want to pay attention to freshness, of course, and you'll definitely want to make sure your pet will eat the food you buy, but getting a 40-lb bag versus a 10-lb bag can save considerable money. That assumes dry food (75% of pet food purchase is), and it assumes the food will be used within 4-6 weeks of opening the bag.

Depending on the type of food you get (ingredients determine length of freshness) and the usage rate, you might consider repackaging or freezing food to capture the savings on bulk without risking that it might become stale.

Save on Pet Food – Tip #5: Join the club!

Many retailers offer rewards programs or have special days when certain items will be discounted. Remember, too, some stores offer regular discounts to veterans, teachers, or other groups. You may be able to save 10% or more on every purchase just by claiming your special status!

Save on Pet Food – Tip #6: Do your research when it comes to supplements.

Depending on diet and physical condition, it may be a good idea to give your pet nutritional supplements – or it may be an unnecessary expense. Don't base your decision on advertising. Talk to your veterinarian, do your research, and use common sense. You may want to upgrade your food supply rather than pay for supplementation.

Save on Pet Food – Tip #7: Feed your pet less!

Obesity isn't just rampant in humans, our pets are also feeling the strain of too much food. Don't allow your pet to become obese. Obesity can lead to chronic issues like arthritis and diabetes.

Save on Pet Food – Tip #8: Make your own pet food.

You may not want to prepare every meal your pet eats, and every question about diet should be discussed with the veterinarian, but supplementing your pet's diet with acceptable, healthy food can cut down on the budget.

Don't waste money on expensive treats. Use fresh fruits and vegetables like blueberries, melon pieces, carrots, and broccoli instead. You can dry small slices of chicken or beef in the oven to make dehydrated treats your pet will love.

Both you and your dog, for instance, would do well to have a bowl of oatmeal now and then. Do your research, and you're sure to discover a few things easy and inexpensive to prepare.
NOTE: Many pet owners and veterinarians have strong feelings about feeding table scraps to animals. Some say it all depends on the food, others think giving Fido a piece of meat from your plate is sentencing him to heart disease. Others point out that feeding from the table encourages begging.
Determining the best food for your pet is much like deciding the best kind of diet for your family. You may believe organic and no preservatives is the only way to go, while your neighbor says you're wasting your money on "health food." This is entirely a decision you must make for yourself. We can report our findings, but we can't advise you.
How to Save Money on Veterinary Care
The second highest pet expenditure is one many people grossly underestimate when they get that cute little kitten or puppy for a child. It averages about $200 per year.
Not only do those little critters grow and need an increasing amount of food, but they require shots and regular checkups in order to stay healthy. Spaying or neutering is also often a good idea.
Here are our top tips on cutting back on veterinary expenses without cutting back on proper attention to healthcare.
Save on Veterinary Care – Tip #1: Preventative medicine is the best medicine.

Keeping up with vaccinations, making sure your pet gets the right food and plenty of exercise – the more attention you pay to keeping your pet well, the less you'll pay in visits to the veterinarian. Most ailments are a whole lot easier and less costly to prevent than to treat. If you overfeed your dog, for instance, you're not only spending too much on food, you're setting Fido up for obesity and the troubles that can cause.

Save on Veterinary Care – Tip #2: Price shop for a veterinary practice.

You may have to drive a little further to find a practice where the fees are within your budget. Paying premium prices for location may be fine for real estate, but not for pet care. Before you decide who to entrust your pet's care to, ask friends for recommendations and go visit the offices you think may be best. Have a frank discussion with the billing clerk about your budget and your needs. You may find the practice is willing to extend a special discount for your patronage. When you adopt from a shelter, they often give you a certificate that makes your pet's first veterinary wellness check free. This is a good opportunity to assess your veterinary choice. Make sure the provider has a good pet-side manner and reasonable fees.

Save on Veterinary Care – Tip #3: Price shop for prescriptions.

Here again, prices can vary considerably. Ask your veterinarian for suggestions, ask your friends, and go talk to the outlets that could work for you. Don't forget to ask about special discounts for organizations you belong to. Your AAA or AARP membership, for instance, could save you money on healthcare expenditures, but you won't know unless you ask. Don't count on the merchant to display a sign or otherwise alert you to the possibilities. Reputable online pharmacies can also save you a chunk of cash on prescriptions. And always remember to check for coupons.

Save on Veterinary Care – Tip #4: Do your research on vaccinations.

You'll want to heed the advice of your veterinarian, of course, but some vaccines come in extended formulations that don't need to be administered every year. Distemper and Parvo vaccinations now last three to five years. The AVMA and AAHA actually recommend vaccinations no more often than every 3 years. Do not allow the veterinarian to convince you otherwise. You might also get a discounted price by taking your pet to one of the frequent clinics held at pet specialty stores and pet advocacy organizations. Just be sure to get documentation and give a copy to your veterinarian to update the records they keep for you.

Save on Veterinary Care – Tip #5: Consider getting health insurance for your pet.

Depending on how many first aid and healthcare needs you can handle by yourself, you may be way ahead with an insurance policy. Look for one that rewards preventative care and will cover you well if something requiring intensive treatments happens. Chronic diseases and ailments common to the breed, for instance, should be part of the plan you choose. Options to insurance include setting up a savings fund for pet care or taking advantage of special financing like CareCredit, an interest-free credit card with up to 24 months to pay, depending on total. Your insurance plan can make the difference between getting the proper care for you pet, or having to make a very tough decision if you can't afford the treatment.